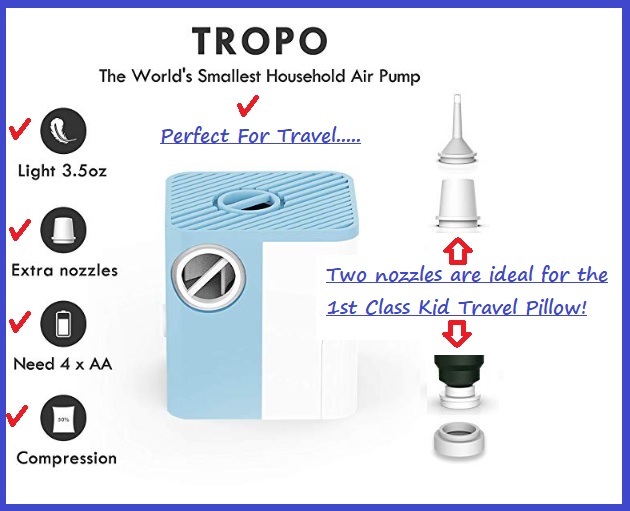 1st Class Kid Travel Pillow has more than one option to inflate either by:

1. Your aeroplane ventilation port (if available)
2. Manually:
please see https://1stclasskid.com/manual-inflation-instructions/
Or if you prefer to use a pump we highly recommend
3. The Tropo Pump.

Ultra-lightweight – Weighs only 3.52oz and Powered by 4 AA batteries – Perfect for Travel!
Ideal for other uses during your vacation – with 4 extra nozzles to adapt to most inflatable products on the market. Such as outdoor air cushions, household air beds, swimming rings, inflatable toys and vacuum storage bags.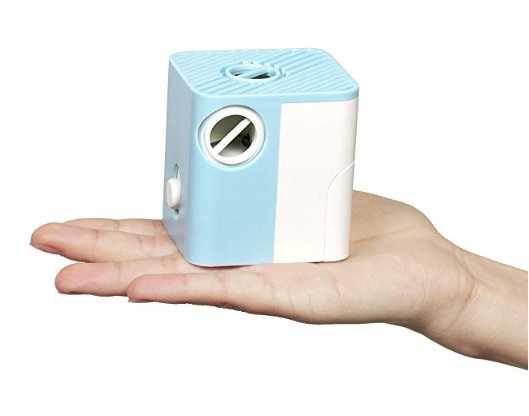 No need to be in the spotlight by standing up & moving around using a foot pump or work with a flimsy hand balloon/ball type pump action that takes forever! The Tropo pump will inflate in less than a minute!
Do not inflate and set up 1st Class Kid until you are at cruising level.
1st Class Kid should be treated like any other carry-on.

NOTE: The pump will make a noise but generally blends in with the sound of plane engines. Noise level of the pump will vary depending on strength of your batteries so if you are conscious of making any noise then we suggest using weaker batteries as they will still work but they take slightly longer to inflate.

Do not run the pump for long periods. Adult supervision is required.
Color: Blue White